Very very very very tired...
Just got back from the Melbourne Showground. =) I recall posting something similar last year.. Check it out
here
. It's strange how quick time flies by... Can't believe it was last year.
This year, I've got some pictures to put up...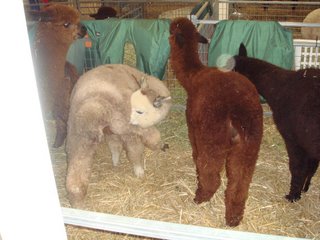 The animals in the picture is ALPACAS... Never heard of them let alone seen them till today. Very unique.. Although to me it looks more like a breed by crossing sheep and giraffe :P hahaha =)

This picture shows two of the stuffed toys that i spend big portion of my budget in an attempt to get them... the one on the right end of the hanging toys is the precious Bob the builder. it is sooooo cute!!! and then the second one from the left.. Homer Simpson... just as cute.. but bad luck this time :*( didn't get any of those... but i got cookie monster n the psycho baby from family guy.. =)
will try to put up picture sometimes later...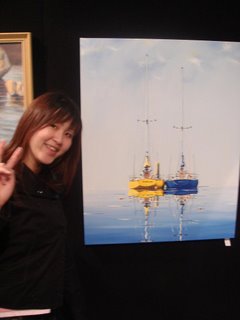 Loved this drawing... it looks very peaceful and calming.. need to save some money before i could purchase it though... the painter is a very talented artist in deed to be able to draw something like this.. =)
alritey.. i'm off to bed.. gotta go to work tomorrow morning.
ciao!